Back in March 2018, I went to Australia (Sydney and Melbourne) with my family. It was my first 'ang moh' country! It means that Australia is the first country with Caucasians that I have visited. Usually, my family would travel within Southeast Asia (SEA). Being able to travel outside SEA was a thrill for me.
---
Just some information about my trip.
Hostel in Sydney: Big Hostel (located near Central Station)
Apartment in Melbourne: Breakfree on Collins ( near Flinders Station)
My family of 4, did not rent a car because we were unsure about the routes there and my father wasn't a seasonal driver. Therefore, for the most part, we only stayed in the city and made one day trip for each city.
Exchange rate: 1 SGD = 1.022 AUD
Since the exchange rate is rather close, I'll drop the currency.
---
Sydney
Our trip started off with Sydney first, followed by Melbourne.
For your information, I took almost 3 hours to get out of the airport. A little story time, they are using this photo matching system where they match your face to your passport. Apparently, I wasn't able to pass through this system ( I tried 3 times but failed) and eventually went through the manual proceedings. After which, I was so shock to find a queue for exiting the airport. OMG! SO MUCH TIME LOST! There was also another queue for those who have things to declare.
For my fellow Chinese friends/viewers, please don't put the Charcoal pills (Chinese medicine) in your carry on unless you have to take the precaution of your serious stomachache. For first-timers, you may not know that there is another queue for declaration (my mother had to queue twice).
After getting shocked at the airport, I was also quite taken aback by how expensive their transportation was! We took the airport train to Musuem Station and it costs $18! If you are coming from the International Airport, it is 5 stops away from Musuem Station. I felt like it was daylight robbery. So $18 x 4 = $72 holy… I mean, I was pre-warned that Australia is expensive but I did not expect their transport to be that expensive. Their bus fares were rather okay I would say. $2 per trip? Around there. Also, their MRT card is non-refundable. The average amount you have to spend on food is about $10. It is cheaper if you cook yourself, rather than eat out.
We went to the legendary Blue Mountains. Initially, we wanted to book the Blue Mountain Explorer Bus (click here to visit their webpage) which costs $44 ++.
HERE IS A VERY GOOD TIP FOR YOU WHICH WE GOT FROM OUR HOSTEL.
Every Sunday, Sydney's transportation fee is capped at about $2. This means that you can take multiple trips and travel long distances for only $2. What a steal! Instead of spending so much money travelling to the Blue Mountains, you only need to spend $2! There are public buses at Blue Mountain, hence you need not purchase their explorer bus ticket. If I remember correctly, the bus number that it'll take to all the attractions such as scenic world, the three sisters is 686 (if I didn't remember wrongly).
Of course, if you would like to take the Skyway, Railway and Cableway, you have to pay more for it.
To get to Blue Mountain, you need to take a train to Katoomba Station and it is about 1-2 hours. The food there is expensive so you may want to pack some food there if you are on a budget.
Melbourne
Next stop in Melbourne. It wasn't as bad as Sydney. We stayed in the free tram zone. It means that we need not have to pay for transportation fee in this area. I honestly do not know how their system work. There were times where we couldn't tap our Myki card although we were travelling out of the free tram zone. Does this mean that I need not have to pay for the ride?
Staying in Breakfree on Collins was the best part of this trip. It was super huge and spacious, with 2 bedrooms, a kitchen and a washing machine. The only downside to this is that their Wifi is limited.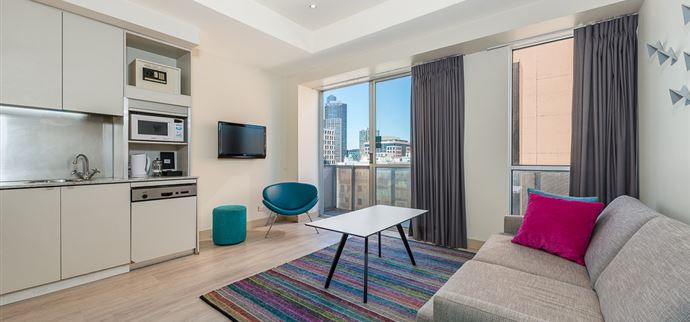 When we were in Melbourne, we booked a day tour to the Great Ocean Road through Wunders. Their mobile app is launching soon in April, so tentatively, you can get them through Instagram. They booked the trip from Bunyip, one of Australia's top tour companies. Our tour guide was really good and experienced. Recommended!
The following are some places I've visited in Melbourne.
Overall I would say I had a good trip, but I will not be going back anytime soon.
Are there more tips that I've not discovered? Leave in the comments below!